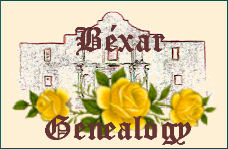 Download the latest version of Adobe Reader click on the icon below:


© 2002- 2012, Steve Gibson, Bexar Genealogy, All Rights Reserved


This website is dedicated to genealogy research of the early families that settled in and around La Villa de Béxar, which has become the modern city of San Antonio, Bexar Co., Texas.


Our heritage comes from the brave and adventurous men and women who were not only part of the founding of San Antonio de Béxar and the Villa of San Fernando but who fought for Texas Independence in 1836, and eventually for statehood in 1845 as the 28th state taken into the Union.


The reason I created this website is that after more than 30 years of researching my own families history I came to realize that I had a lot of information that needed to be shared with others. I have tried to design this website with that in mind. It's more about the genealogy than the history, but it is the history that tells a story and makes it interesting. I hope, you find Bexar Genealogy to be a perfect mix of both.


I have tried to organize this website into four distinct eras in early San Antonio history. First is the
Presidio Settlers

, who arrive in the San Antonio area in the early 1700's. Second, the

Canary Islanders

, who came to San Antonio de Béxar on March 9, 1731.

Bexareño

and

Tejano Citizens,

those who descended from the first arrivals to the time of the battle of the Alamo and the Texas Revolution. The

Anglo

Texicans

that participated in the Texas Revolution and the creation of the Republic of Texas. This web site is primarily focused on these people and their descendants.


This is not to ignore the many others groups and people who came to San Antonio following the Texas Revolution, in fact, many of them may be mentioned on this site as they married into one of the old San Antonio families.


As this site evolves, I hope, more and more of San Antonio's history, culture, and way of life come to light along with the people who made it so.


If you would like me to add your family line to my database or If you would like to see if you tie into my database;
In addition, tell me how I can make this a better website. If you have questions or comments;
Please take a moment to fill out my Guestbook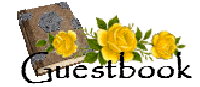 In addition, I have used many books and different Internet websites for sources to provide the historical background used by this site, however, the genealogical information is from my own database which consists of more than 37,500 individuals. I have taken as much care as possible to ensure the accuracy of the information used on this website, however, it should be used for informational purposes only. I try to state as many sources as possible with my genealogical information, but when none are stated you must use the information for what it is. As you know, there are many errors on the Internet and even when I have several sources the information is not necessarily correct. Use caution and discretion. If you have a source that can be cited for information found on this website and you would like to share it, please feel free to contact me.


My Goal is to have the largest genealogy database for this group of extraordinary people, the people who made San Antonio the Great City that it is. If you are one of the descendents of these early settlers I would like to tie you into my database. Again, please contact me via email, I will be glade to share my information with you. If your family information is not on the website, it still may be in my database, so please contact me. If it is not on one of the many descendent reports, please contact me with your information and I will add it to my database.


I hope you find this website helpful while improving your knowledge of San Antonio's history and its early settlers. Perhaps this website will allow you to add to your own family history.


Thank you for visiting my website, I hope you enjoy what you find. Let me know if there is anything I can do to help you.
In the year 1718 the presidio of San Antonio de Béjar was established on the San Antonio River. During the same year, the mission of San Antonio de Valero was moved from the Rio Grande to the vicinity of the presidio. In 1732 it was moved to the military plaza and in 1744 the mission was moved across the river to the site it now occupies and was called by the name "Alamo".

The Alamo, San Antonio, Texas